Our Story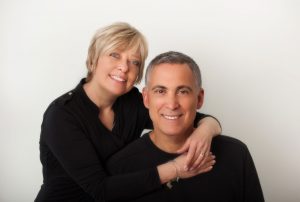 When Jane Chemerynski and her husband Mike purchased Hair Today in November, 1982, they aspired to create a salon business that helped others, including employees, clients, and community. Over 30 years later, Jane and Mike continue to build on that dream, with their successful, lively hair salon focused on looking, feeling and living good, each and every day.
Jane and Mike "Ski" make quite the dynamic duo. You can often find Mike running around town- making new friends, networking, and coordinating fun, community events, while Jane is focused on running the salon and mastering the latest & greatest hairstyles with her awesome team. Both Jane and Mike truly embrace the salon's Look Good, Feel Good, Live Good mindset in both their professional and personal lives…all while having fun!
We sincerely thank all our wonderful clients for their continued support over the past 30+ years and warmly welcome new clients to join our Hair Today Family.
LOOK GOOD
Our team of savvy, creative stylists like to think of themselves as artists. We'll craft your hair to a beautiful look, whether it's through a new seasonal style, vibrant or pastel highlights, fashion color, or a stunning formal hair design for your next special occasion.
Ready for a Balayage, Ombre or Sombre? Fashion Colors are chic!
FEEL GOOD
We're super grateful to have a kind-hearted, customer care team truly dedicated to each and every guest who walks through the door. Once you sit in our chair, we consider you as part of our salon "Family". Sit back, relax and enjoy a cup of tea or coffee, served in Jane's favorite Polish Pottery, of course. We'll ensure you leave feeling your absolute best!
Our Mom, Carol taught us the value of Family, and caring for others- we want to spread her love. 🙂
LIVE GOOD
We're not your average salon. We continually strive to make a difference in our community by supporting local fundraisers, health & wellness initiatives, and other events. Our recent "CUTS for CAMP, BRAIDS for BANDITS" event raised over $7500, sending three seriously ill children from our community to The Hole in the Wall Gang Camp, where they experienced a different kind of healing. Our "HAIR TODAY, CURE TOMORROW" Team previously raised over $10,000 for the American Cancer Society. Our caring, generous clients, employees, family & friends have also donated 1000+ coats to Button Up Connecticut, as well as contributing to many other wonderful causes, including Alzheimer's, Autism, Brain Injury, Cherish The Children Foundation, Connecticut Children's Medical Center, Helen & Harry Grey Cancer Center, National Kidney Foundation, Glastonbury Family YMCA, Community Sports Teams, Police / Fire Departments, and more. We actively participate in many health & wellness and community programs because working together, we can all make a difference! As active members in the local Glastonbury community, we also love teaming up with other like-minded businesses to make an impact.
Let's Spread Good Vibes!